KRI 12.8km Run 2008
Posted : Thursday, December 04, 2008 by johnybravo at 9:25 am

---
I reached Ipoh on Saturday and went straight to the collection center, which was well located and it went smooth, was only disappointed that they did not give any running vest this year, instead a t-shirt. The goodies bag was good with lots of stuff..
After that, went to have some "Ipoh kai see hor fun" and some white coffee & half-boiled egg on a toast bread. Went back to the guesthouse for some rest while waiting for the rest of the gang to arrive from Penang. We met up for dinner and had some "tong sui" as supper. Went to bed around 10pm.
Woke up sharp 520am, showered, ate some light breakfast and got ready for the race. Left at 6.10am and got there early and just nice to do some light warm up(very important for novice runners like me, hahaha).
This was a tough and competitive run i must say, with a lot of "PIA Kaki's". The backdrop was stunning before we were flagged off at the starting point. You could see the sunrise coming from behind the mountains, it was really a spectacular view. We ran in a newly developed area called Bandar Seri Botani and it has a nice botanical lake garden. The only part which i didn't like about the run was, there were too many cornering.
This run was well organized with plenty of water at the drink station and with good marker indicators. I had a good warm up and started well and finished a good race. Quite proud that i came in at 1hr 12m, placed 38 out of 98 in my category, was targeting 1hr 10m but i`m happy with the result. Here are some pictures although not alot...

Medal with running bib



Category age



Nice pewter medal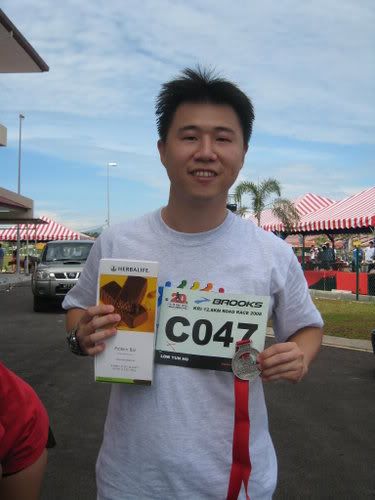 Me with my lucky draw prize(Herbalife Protein bar) and medal

Run No : C047
Result : 01:12:02

Position
Category : 38/98
Sex : 279/788
Overall : 306/967